IPTV
Wij verkopen de Linux Boxen maar geen IPTV abonnementen.
Zoek via Google en vind een ruime keuze in aanbieders van Iptv.

Televisie kijken over internet is de toekomst en vanaf nu mogelijk. Uw favoriete kanalen of zenders uit alle Europese landen kijken waar dan ook in Nederland of het  buitenland. Met een  Android media speler of een IPTV set top box bieden wij u de mogelijkheid  om waar dan ook ter wereld te genieten van uw favoriete programma's. Zonder kabel of schotel kunt u toch televisie kijken naar al u gewenste programma's.
Het aantal zenders en producten zijn daarbij enorm en wij kunnen u altijd een oplossing bieden voor al uw wensen.

Met een MINIX NEO android box of een Mag 254 of MAG 256 IPTV box, ATN box of een Easybox IPTV box kunt u overal ter wereld uw favoriete zenders kijken.
Ook voor een ATN set top box voor Turkse, Arabische, Perzische, Indische etc. zenders kunt u bij InterTronics terecht.
Hierbij kunnen wij u uitgebreid adviseren en indien gewenst kunnen wij alles voor verzending klaar maken, zodat alles werkt nadat u het heeft uitgepakt en aangesloten. Met onze jarenlange ervaring kunnen wij u voorzien van televisie kijken zonder kabel of schotel. Het enigste wat u nodig heeft is een goede internetverbinding en een IPTV settop box , zodat u kunt genieten van televisie, waar dan ook ter wereld.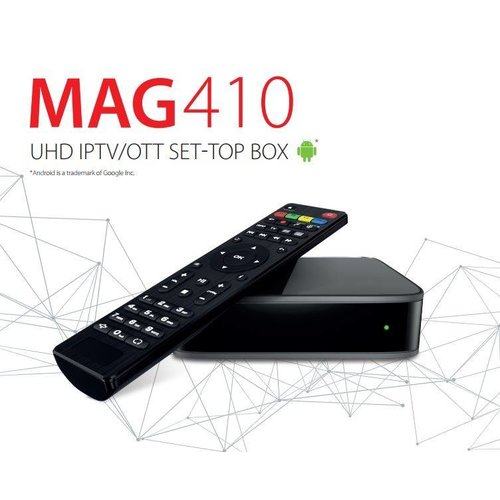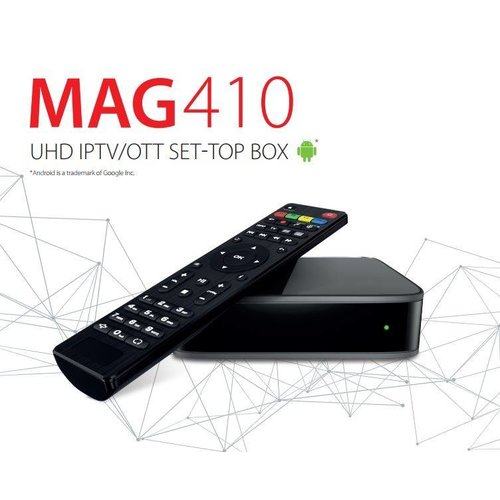 MAG
410
Artikelcode
8719396999127
UHD Set-top Box voor Android TM MAG 410
MAG 352 Set-top boxMAG352 is een premium IPTV / OTT set-top box voor operators, die tv-diensten bieden via IP-netwerken. Het voornaamste voordeel van de MAG352 is 4K ondersteuning die uw abonnees de mogelijkheid biedt om video in Ultra High-definition kwa
MAG
352
MAG 352 Set-top boxMAG352 is een premium IPTV / OTT set-top box voor operators, die tv-diensten bieden via IP-netwerken. Het voornaamste voordeel van de MAG352 is 4K ondersteuning die uw abonnees de mogelijkheid biedt om video in Ultra High-definition kwa
MAG
324
Artikelcode
0741342484409
MAG 324 HVEC Set-Top Box W2: 
Met de MAG 324 HVEC Set-Top Box haalt u een betrouwbare kostefficiente ontvanger in huis met een complete set aan functies. 
Dit betekend dat hij alle functionaliteit,snelheid en extra's heeft die u van een moderne IPTV ont
MAG
324
MAG 324 HVEC Set-Top Box W2: 
Met de MAG 324 HVEC Set-Top Box haalt u een betrouwbare kostefficiente ontvanger in huis met een complete set aan functies. 
Dit betekend dat hij alle functionaliteit,snelheid en extra's heeft die u van een moderne IPTV ont