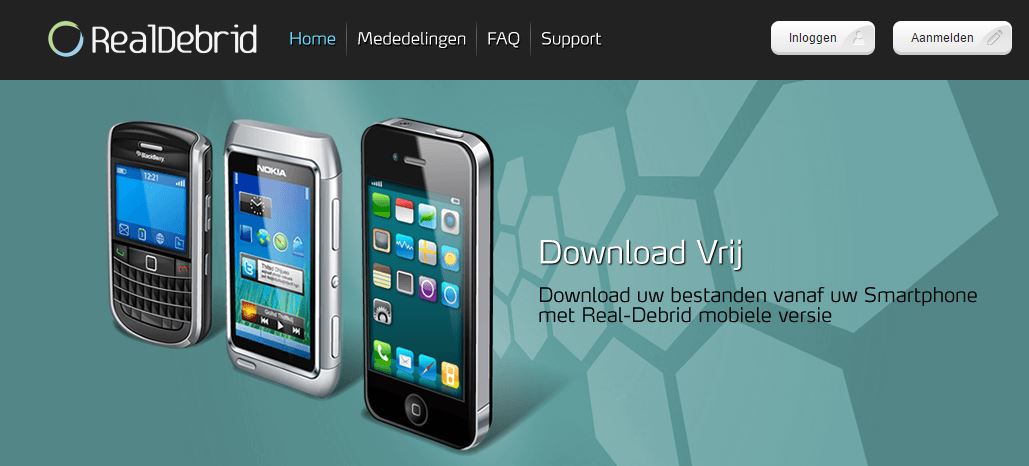 RealDebrid gebruiken voor Kodi en hoe te installeren…


Voor je aan de slag kunt gaan zul je enkele stappen moet doorlopen om RealDebrid op je Kodi te gebruiken.
Op zich zijn dit een paar eenvoudige stappen maar je krijgt voor een bedrag van €9 per kwartaal wel degelijk een hoop terug.
Zo kijk je heel veel series en films in de best mogelijke kwaliteit die er is van 720P of 1080P met in veel gevallen een audio stream van Dolby 5.1, iets wat ik voorheen altijd miste in mijn streams.
Ook is het bufferen van je streams met gebruik van Realdebrid verleden tijd.
Wil je het dus eens rustig uitproberen zijn er 2 mogelijkheden, de eerste is dat je dagelijks tussen 6 en 12 uur s'morgens de mogelijkheid hebt om het gratis te gebruiken, een soort van Happy hour zonder premium account.
Daarnaast kun je ook voor het bedrag van €3 euro 15 dagen kijken of je betaald een 1 €uro meer en kijkt dan meteen 30 dagen.
Wil je het dus eens rustig uitproberen is dat geen enkel probleem en zul je net als mij al snel merken dat ReadDebrid zeker de moeite waard is.
Maar hoe installeer je deze Payserver nu exact op je Kodi/Mediabox, de volgende handleiding loodst je er eenvoudig doorheen:
1. Ga naar de site RealDebrid en klik rechtsboven op Aanmelden.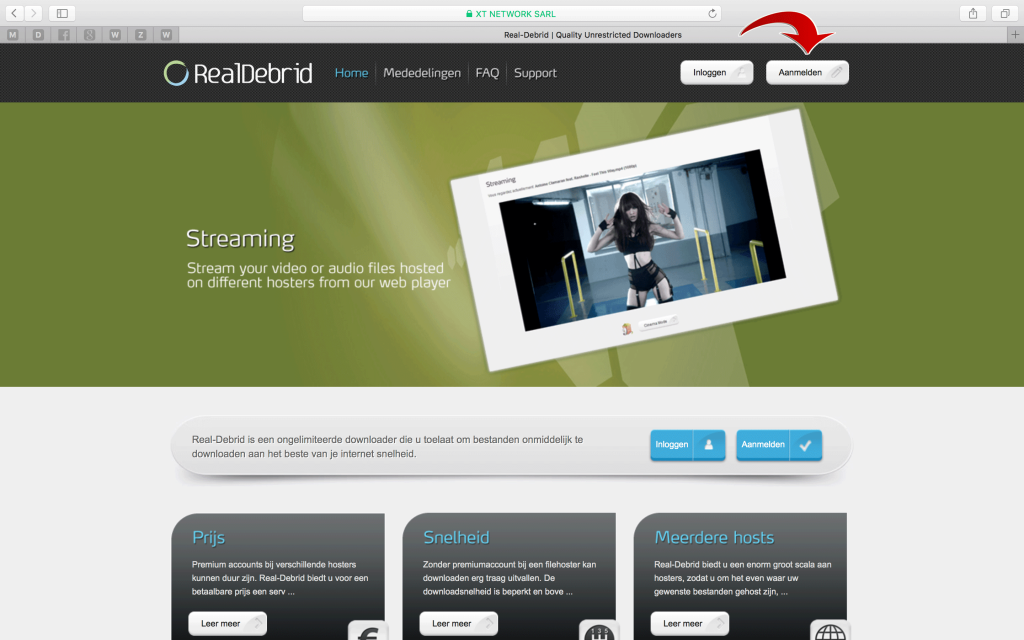 2. Wanneer je op aanmelden klikt komt er links een aanmeldscherm tevoorschijn.
Vul hier je inlognaam en verdere gegevens in.
Maak de inlog niet te moeilijk met allerlei hoofdletters, cijfers en tekens.
Deze inlognaam moet je op meerdere plekken in KODI invullen.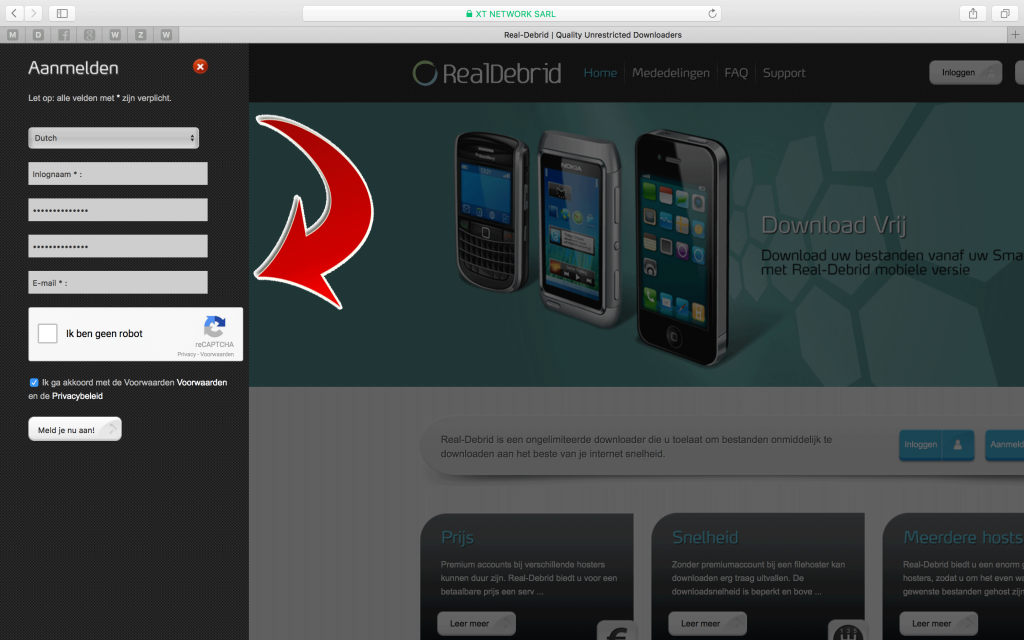 3. Wanneer je je hebt aangemeld, ga je naar inloggen en voer je je inlognaam en wachtwoord in.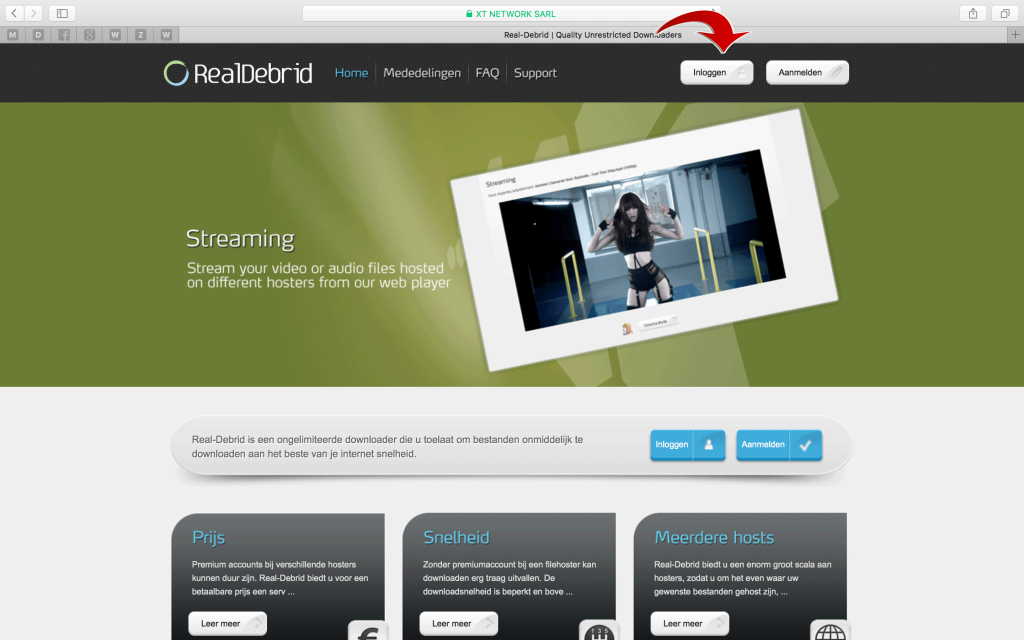 4. Nu ben je aangemeld en kun je een 15 daags abonnement nemen of meer. Klik op Premium.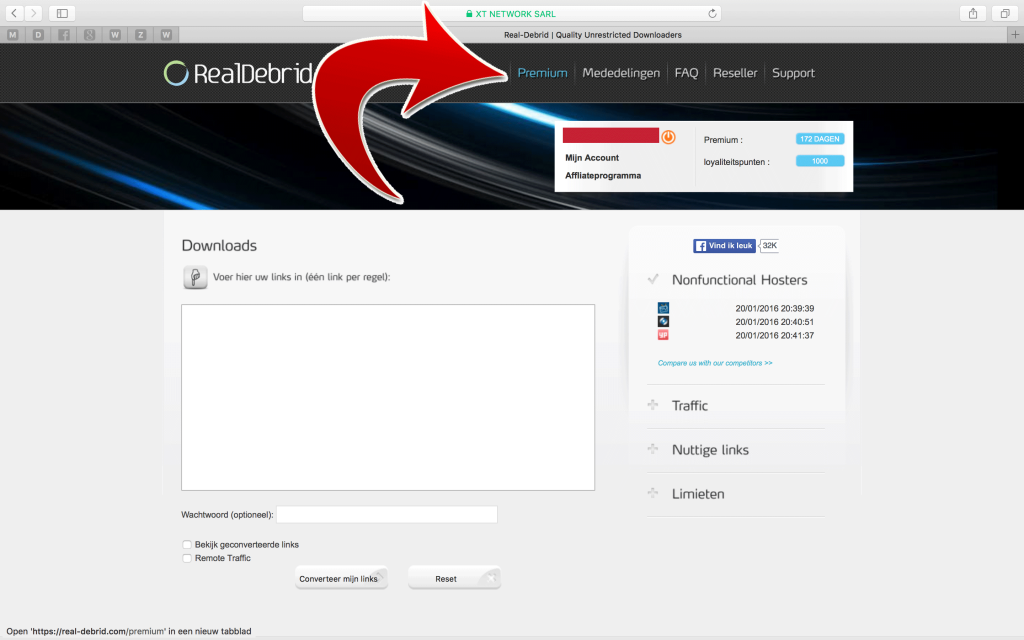 5. Nu zie je 4 opties verschijnen. Kies diegene uit waar je voorkeur naar uit gaat.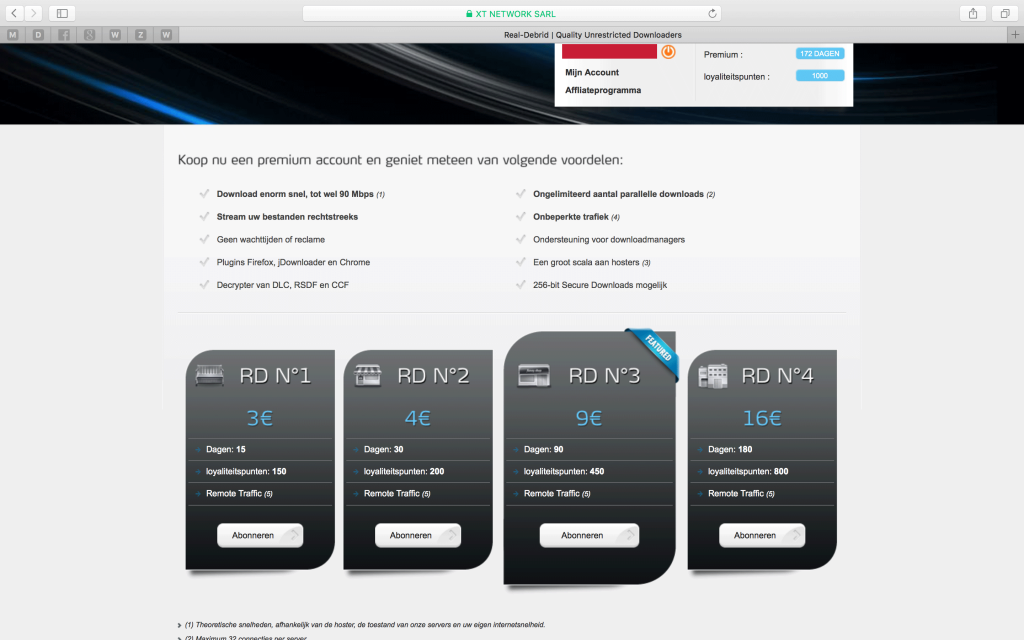 6 Je kunt met je creditcard betalen, maar voor diegene die dat niet hebben is er,
ook een Paysafe kaart mogelijkheid hiervoor moet je je eerst aanmelden op Paysafe,
en kun je een tegoed aanschaffen via Ideal of het kan ook via telefoon met SMS bericht.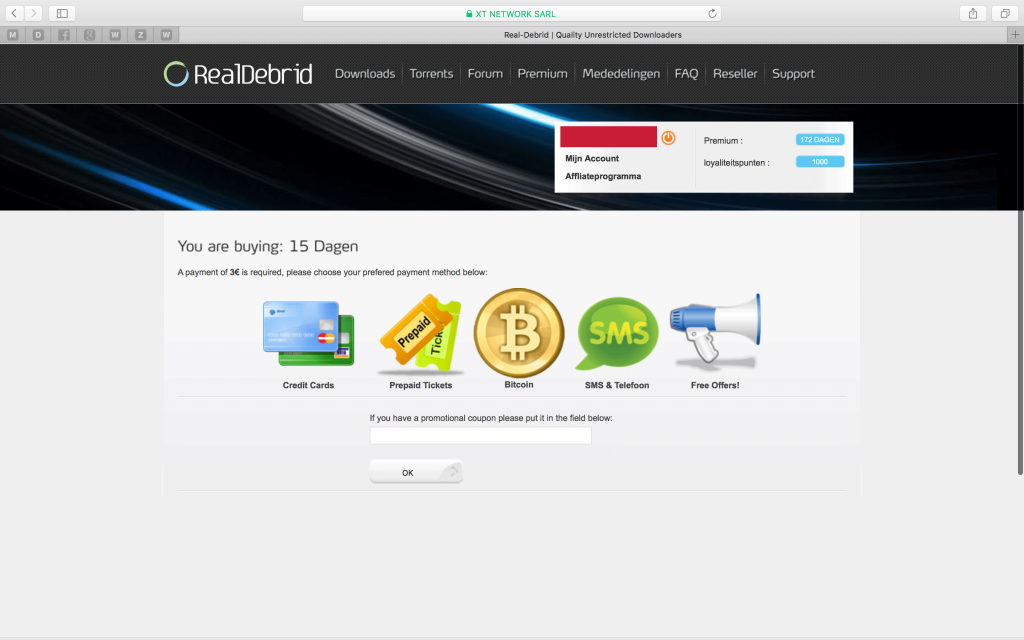 7. Wanneer je dat allemaal hebt gedaan is je account geactiveerd met Premium.
Voor Premium staat je inlognaam, deze ga je gebruiken voor de integratie in KODI.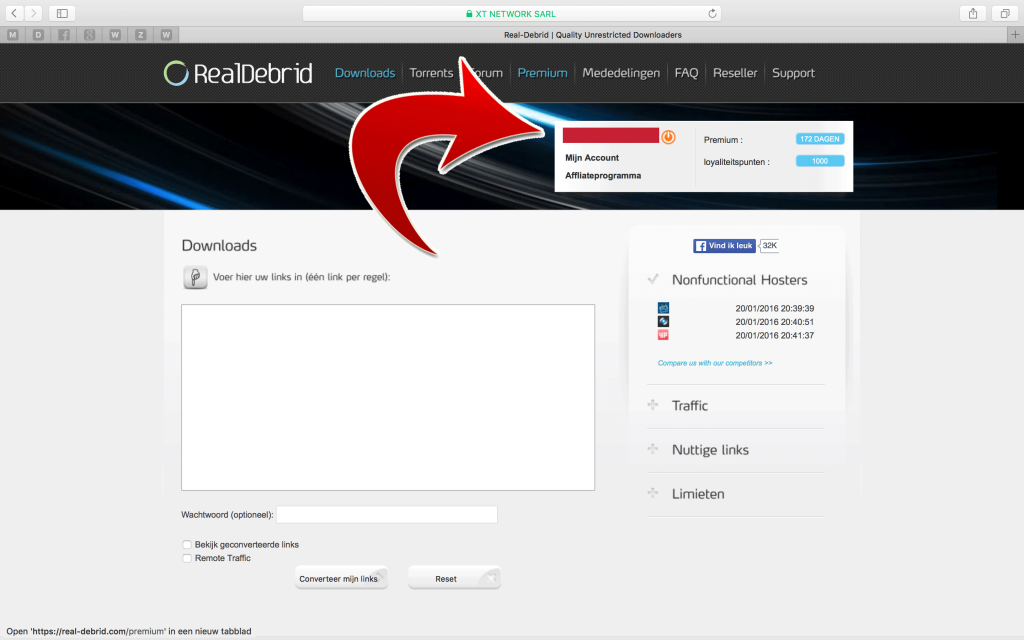 Real Debrid Instellen voor Beste Streams 4K & DTS (betaalservice)


Dit ziet u zonder Real-Debrid
Dit ziet u met REAL-DEBRID of DEBRID-FR
Real Debrid Instellen voor Addons bv: Specto of Exodus
Ga naar "instellingen" -> "Addon instellingen" en kies "Specto"


Selecteer aan de linkerkant "Accounts" hierna kun je rechts naar Real Debrid instellingen gaan en selecteer deze.


Nu gaat u op op een ander apparaat naar de website "real-debrid.com/device" en vult u de code in die in het scherm staat.


Selecteer nu onderaan op "OK" om de instellingen te onthouden als je nu naar bronnen zal zoeken komen er diverse Real Debrid bronnen bovenaan te staan.
Real Debrid Instellen via 4k en DTS menu in HD-Collecties
Voor de meeste 4K films is Real Debrid een must have dit omdat de streams 20 tot 60GB van omvang zijn en dus een stabiele stream binnenkomst nodig is.
Ga naar "HD collecties" -> "4K &DTS"
(als je al geauthoriseerd bent via het instellingen menu hoeft u dit niet meer uit te voeren)


Selecteer de optie "Real Debrid Koppelen"


Nu gaat u op op een ander apparaat naar de website "real-debrid.com/device" en vult u de code in die in het scherm staat zoals bv hieronder: 78GBG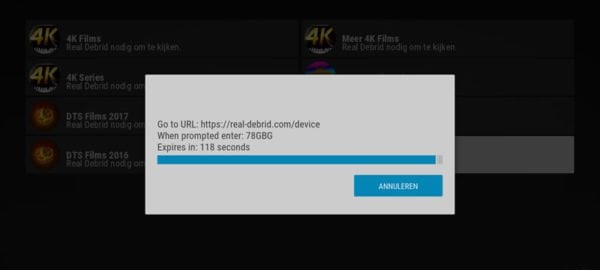 Als dit juist is ingevoerd binnen de tijd zal de popup verdwijnen en is uw Real Debrid account gekoppeld aan de Addon en kunt u de films en series afspelen van exclusieve bronnen.


Wij willen er nadrukkelijk op wijzen dat de Add-ons en Payserver worden aangeboden door derden en dat wij uitsluitend een overzicht verstrekken van de mogelijkheden die deze add-ons en payserver bieden. Wij hebben geen invloed op de werking ervan en accepteren hiervoor dan ook geen enkele aansprakelijkheid.